Help Build The Equine Therapy Center at The Refuge Ranch
We will soon begin construction on the Equine Therapy Center. We need your help and here is why.
Help BUild THe Equine Therapy Center
The Refuge Ranch will soon begin CONSTRUCTION on the Equine Therapy CenteR
We need your help and here is why
The Refuge Circle of Care™ appropriately and sensitively surrounds each girl with all the services she needs for her individualized healing plan. These long-term, residential wrap-around services, which include education, psychological and physical therapy, spiritual and familial counseling, vocational training, and more, are all provided on-site at The Refuge Ranch. While they were being victimized, the girls ran away as a means to survive. They ran from abusive, neglectful bio-families and they ran from bad foster homes. They ran from violent pimps and brutal buyers. Once they are in a safe place, it is difficult for them to turn off their fight-flight-or-freeze responses to even simple, everyday stressors. Because off-site activity increases both stressors and opportunities to run away, it is imperative that we have a fully functional equine center at The Refuge Ranch for the safety and security of our residents.
Additionally, the on-site responsibilities that come with caring for a horse is a crucial component of the Colors of Hope equine curriculum (details below). Feeding, bathing and brushing a horse will help the girls understand what caring for another being is like, giving them something meaningful to focus on other than themselves. Until we are able to raise the funds to complete our Equine Therapy Center, inclement weather will cancel therapy sessions, and our Equine Program Coordinator has no place to store and maintain her tack.
We Need Your Help
The estimated cost to construct an equine center at The Refuge Ranch is $600,000. This figure anticipates the full needs of the equine therapy program when the ranch is at capacity with 48 survivors. When completed, the Equine Therapy Center will have an arena, round pen, stables, tack room, field, fencing, and space for an office for the Equine Program Coordinator, along with an adjacent classroom to augment therapy.
The $8.5 million Refuge Ranch was built debt free. Our Board of Directors is committed to remaining debt free to keep from jeopardizing the 24/7, comprehensive care for the girls living at The Refuge Ranch.
If you want to help us build The Equine Therapy Center, click here now to donate.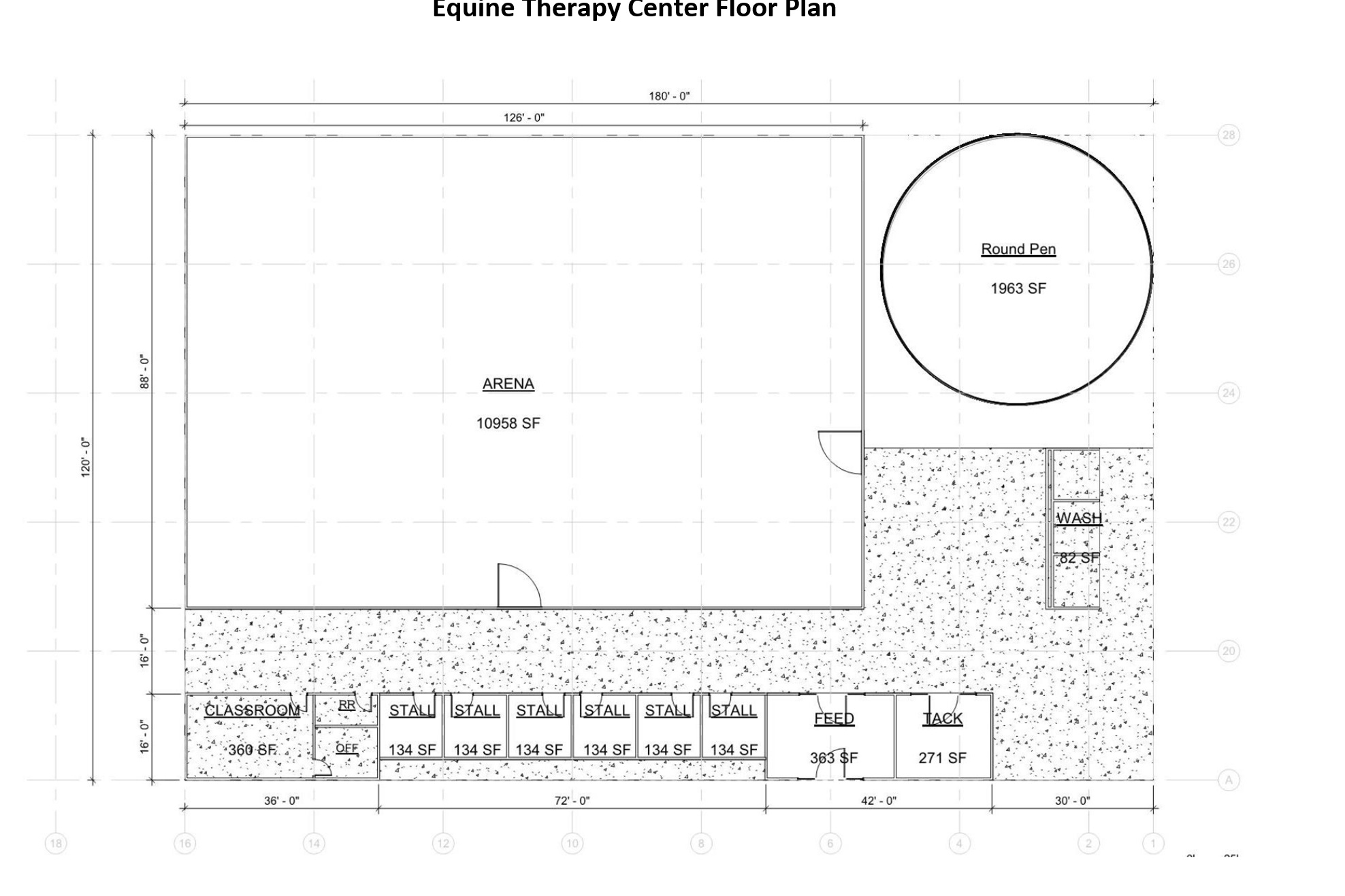 Equine Therapy for Child Survivors of Sex Trafficking
Equine therapy (also referred to as horse therapy, equine-assisted therapy, and equine-assisted psychotherapy) is a form of experiential therapy that involves interactions between clients and horses. Through these interactions, therapists and survivors can identify and address a range of emotional and behavioral challenges.
As a herd animal, a horse's survival depends on its ability to read emotions and react accordingly. If an approaching predator makes one member of their herd stressed and frightened, they will all become stressed and frightened. Their ability to mirror emotions helps a trafficking survivor safely process her trauma one layer at a time with the guidance of her licensed clinical therapist and an Equine Program Coordinator.
Equine therapy exercises begin slowly, starting on the ground and progressing over the course of the program to riding exercises. While interacting with a horse, in the moment when a survivor is scared, she can work through her fear with her counselors. When she feels safe and there is trust, then she can calm herself and breathe through her anxiety. When similar fears arise later, the methods she learned in the controlled environment of the Equine Therapy Center round pen and arena can be applied in everyday situations to help her self-regulate and overcome her fear.
The size and strength of a horse is formidable and hard to ignore. How each child behaves toward her horse is a direct reflection of how she faces her own seemingly insurmountable trauma. Trafficked children are often frozen in a hyper-vigilant, fight-or-flight survivor mode that stresses their bodies and inhibits brain development. Through mundane horse care and stable management, children who have endured long-term, complex trauma learn to relax and flourish. While working with horses, a child can work through her triggers in real time. These realizations can lead to therapeutic breakthroughs when guided by her counselors. The horses at The Refuge Ranch act as a bridge, helping each girl reconnect both to themselves and those around them.
See how a special horse named Newton came to The Refuge Ranch.
Colors of Hope
After extensive research and interviews, The Refuge for DMST chose the Colors of Hope equine curriculum. This program equips and empowers survivors of complex trauma to ride their own path from trauma to restoration, using the horse as a tool. Because the program was written by a survivor for survivors, it applies effective, educational and redemptive equestrian experiences for a child's healing journey. There are three phases to this program that integrate music and journaling and typically take about 18 months to two years to complete. This proven program has been utilized all over the world to help sex trafficked women and children become survivors.
We implemented the Colors of Hope equine therapy program at The Refuge Ranch in April 2019 and have already seen progress with the girls. However, until we have a permanent, on-site center to house and care for our horses, we cannot execute this program to its full potential due to the unique demands of The Refuge Circle of Care.
Donate now and Be the One to finish construction of our Equine Therapy Center.